Sometimes ain't nobody got the money to buy an eye shadow palette for $50 so here is my list of some brands  that offer really good quality products but are also super inexpensive. I have tried and tested most of them. The others aren't available here in Ireland but I have heard a ton of good reviews of them from YouTube beauty gurus and makeup artists. (Click on the links for more product info). Keep reading to find out my favorite cheap list…
MUA
This brand has the most beautiful eye shadow palettes for only €5.15. I bought one of them in 'Undress Me Too' and they are really pigmented, long-lasting and super blendable. In ireland you can find it in Superdrug.
Currently I am OBSESSED with their Luxe Matte Velvet Lip Lacquers. Honestly they look exactly like the Lime Crime and Anastasia Beverly Hill's liquid lipsticks. They don't transfer and they are not drying at all. So ladies, if you have a date night coming up this will be your secret weapon of the night! The pigmentation is insanely beautiful. And they are all MATTE. I have two of the shades which I swatched below.
Makeup Revolution
Where do I even start with this brand. Their amazing eye shadow palettes, matte bronzers, highlighters… Their matte bronzers are very much like the Benefit's Hoola bronzer and the highlighters look exactly like Mac's highlighters. They are super pigmented and give a beautiful glow to the skin. AND they have a highlighter for every skin tone.
I haven't got a chance to buy their highlighters and bronzers because everytime I go to buy them.. they are gone. THAT'S how much all the women love them here. I always have to ask the shop assistants when they're going to stock up next time. I feel like at this point they already know what I am going to ask them about..
I use one of their matte mono shadow in 'MMMM' as a contour shade which was a really good tip from Kaushal Beauty. It's only €1… like seriously!
Their eye shadow palettes are the exact dupes of Urban Decay's Naked palettes. The colour payoff is incredible as well. I'll link a video below which shows all the swatches of those dupe palettes.
W7
I recently bought their eyeshadow palette in 'lightly toasted' which I think is a pretty good dupe of Urban Decay's Naked 3 palette. The pigmentation of most shadows are great. There are only 2 or 3 shadows that are not so pigmented. They last pretty long with the use of a primer.
I also bought their Absolute Lashes Mascara which is an EXACT DUPE of Benefit's They're Real mascara. I literally thought it was Benefit's mascara when I saw it the first time! It gives volume like no other mascara has given before but it doesn't lengthen my lashes much. I think for €4 it's definitely worth a try.
Milani
I haven't tried this brand since it's not available in Ireland but I have heard a TON about their baked blushes, eye liner and lipsticks. Some lipsticks are very comparable to Mac's lipsticks because of their pigmentation, color range and longevity. If you're into that goddess-glow type of makeup, this brand will be your best friend. Check out the swatches below. They are GLORIOUS!
Elf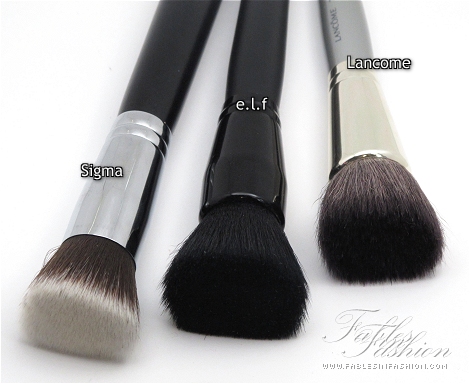 This brand is well known for their brushes and eye brow kit. I haven't tried them yet because they're not in Ireland. But I'd LOVE to get my hands on their flat top kabuki brush. I have heard about it a million time and they all say that it gives such a beautiful airbrush and natural finish.
NYX
In my opinion this brand beats some of the high end brands. I LOVE their butter glosses, primer, jumbo pencils, HD concealer, eye shadows and what not… They only came out recently in Ireland so I have a LOT to try and I really hope I will soon. I might even do an all NYX product review/haul.
I think every makeup artist owns their butter glosses and lip creams. I am also loving their liquid illuminators because they give such a natural subtle glow-from-within type of finish. Absolutely gorgeous!!
BH cosmetics
I have never tried their products but their eye shadow palettes are worth the shipping price! Usually the newbie makeup artists use these shadows because they are super pigmented and super cheap. Definitely get your hands on them if you are new at makeup.
Catrice
I have a lot of their mono shadows and OMG their new matte baked shadows are beautiful! Currently I only have one of them but I am going to buy all of them pretty soon. Their shadows are super pigmented although in the picture below they get washed out because of the lighting. Sorry 🙁 but definitely give them a try. If you love Mac shadows.. you'll love these!
Collection 2000
EVERYONE.. and i mean everyone in Europe raves about their lasting perfection concealer. I definitely think it beats NARS creamy concealer. I have gone through 5 or 6 of the tubes before. And I would definitely buy it again.
They recently came out with beautiful eye shadow palettes. I have one in 'Nude Bronze'. They are so pigmented and blendable. The only con is that if you use them without a primer, they will crease but other than that these palettes are absolutely gorgeous. They come in different range of colours from smokey eyes to nude bronze.
Barry M
This brand is well known for their nail polishes and colorful eye pencils. They have such a beautiful range of colours and are very comparable with Essie nail polishes. Their packaging is really chic as well! Their eye pencils are creamy, super black and long lasting which is difficult to find in drugstore products.
Sleek Makeup:
This brand recently came in Ireland and OMG… I can see why everyone in UK and USA raved about them. I love their matte lipgloss and eye shadow palettes of course. One of the palette definitely reminds me of the Urban Decay's electric palette. Their pigmentation is crazy! And right now I am loving their blush and contour palette. The packaging is so light, thin, chic and perfect for travelling. Basically everything from packaging to the actual product is just beautiful!
NYC:
Everyone is on about their liquid eyeliner which I still use to this day and it's probably the 77th time I am buying it again but it's ok because it's literally only €3. I hope they NEVER discontinue it because I will be devastated if they do :'(
They recently came out with some liquid lipstains and I practically use them on a daily basis. My favourite color is #400 'On Everyone's Lips'.